GM Employee Discount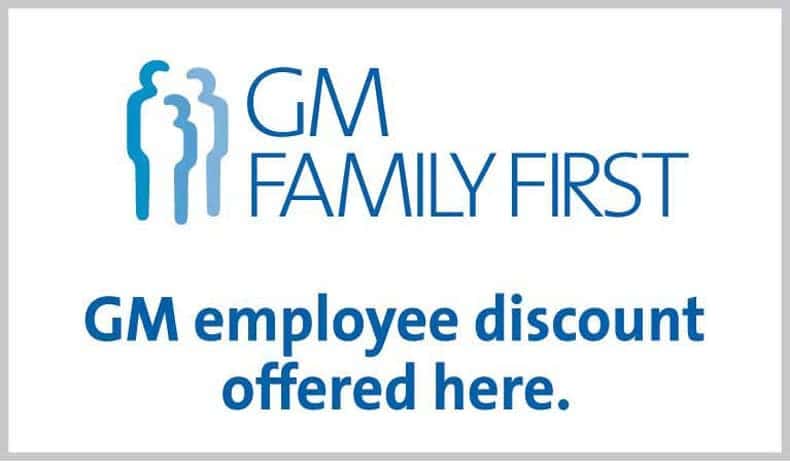 Chesrown Chevrolet Buick GMC, Inc. Honors the GM Employee Discount Program!
GM employees and their eligible family members can drive home a great deal on an eligible, new GM vehicle with the GM Employee Discount and most current offers.
This program is a great perk for GM employees. Through it, employees and eligible family members* can purchase or lease an eligible, new and unused Chevrolet, Buick, GMC or Cadillac vehicle at the GM Employee Discount Price, a special discounted price below the MSRP. Combine this discount with most current offers to save even more.
Build a vehicle to your exact specifications — and view the GM Employee Discount Price and MSRP by following the prompts.
To take advantage of this opportunity, you must request an authorization number for yourself or your eligible family members. Authorization numbers may be requested for the purchase or lease of a total of six (6) vehicles per calendar year and are valid for six (6) months from the date of request.
Eligible employees and retired employees are able to sponsor their spouses, children, grandchildren, parents, stepparents, grandparents (including in-law and step), siblings (including full, half and step), stepchildren, stepgrandchildren, mother-/father-in-law, sons-/daughters-in-law and brothers-/sisters-in-law, aunts, uncles, nieces and nephews. Same-sex domestic partners (SSDPs) of eligible participants also qualify. Eligible SSDPs are treated the same as spouses, and therefore, their eligible family members are also included.
Rules & Guidelines
Everything you need to know to save with the GM Employee Discount.
Rules & Guidelines
Current Offers
Combine your GM Employee Discount or the GM Supplier Discount for Friends with most current offers.
Current Offers
Vehicle Eligibility
See which models qualify for the GM Employee Discount and QRD.
Vehicle Eligibility
GM Supplier Discount for Friends
Give a friend or neighbor the same discount our preferred suppliers receive.
Learn More